Problem: Using your midterm project bird illustration and research text, create a CMYK, 8.5×11″ bird guide that demonstrates type layout skills.
Skills: Demonstrate an understanding and use of 3 or more of the following:
Import Text
Columns of Type
Change Type Attributes
Type Styles
Wrap Type
Reshape with envelope
Text on paths and shapes
Type Outlines
Limits: Your Bird Guide should have a 1/2″ margin and include the following sections:
Name of Bird
General – General information and overview of the bird
Characteristics – Description of size, color, pattern, etc.
Voice – Description of calls, song, etc.
Habitat – Description of nesting locations, type, etc.
Survival – Effects of human activity on the bird population
EXAMPLE: [download]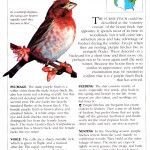 Research /  Inspiration

Look for examples of bird guides, scientific illustrations and plates.
Print and document these examples and observations in your sketchbook

Experimentation / Iteration

Experiment with color combinations, fonts and styles.
Choose those that are most successful and complement your bird illustration.

Development of Skill and Craft

Refer to Week 09 Lab.
Make sure your project demonstrates good Project Organization (layers, fonts, etc.)

Expression of Form, Emotions, Concepts, and Voice

Your illustration, while limited to by the constraints of the project, should express your unique voice or graphic style using basic design principles.
Show a connection between the original research and the final illustration

Thoughtful Assessment (Critique or Written)

Bring all assignment parts to class.
Be prepared to present, discuss and analyze your finished work in terms of concept, craft, and what you learned.
State the following: your name, what you are presenting (title and design problem), which parts are successful and why, which parts are unsuccessful and why.

Work Hour Tally

In the info section of your file, define the hours committed for each portion of the assignment, including dates and times.

Submission

Your  illustration is due in the DropBox at the beginning of the next class meeting.
Label your file with your name and the title.

example: jsmith_assignment04.ai

Put all files into a FOLDER and name the folder:

example: jsmith_assignment04

NOTE: Make sure you include all fonts used in the project in your project folder.